October is a time for harvest, for gourds and pumpkins. Some even celebrate Halloween. How do you celebrate October? Do you trick or treat, or buy candy for the kids? Do you have a harvest festival? Do you take pictures of things you've grown? Share how you make those around you feel comfy, fed, warm, and relaxed in October.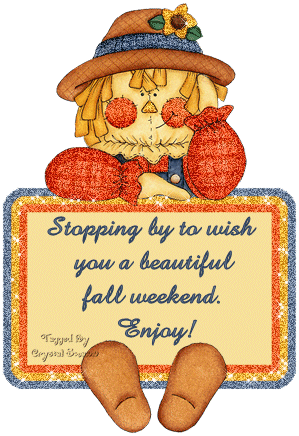 glitter-graphics.com
I celebrate October by coloring pumpkins and scarecrows. I like to October because the weather feels so good. I like doing things when the weather feels good. Me and my mother-in-law tried this thing where you make scarecrow heads out of gourds. But mine didn't turn out to much looking like a scarecrow head. It was real fun! I don't trick-or-treat its been a long time since I trick-or-treated. We never hardly have kids that come to our house to trick-or-treat. We live kind of out of town a little ways. We have been eating baked apples and apple crisp. All of it tasted so good. I get excited when October gets here. Because then November gets here and I love studying about the Indians and the pilgrims. Then comes December my favorite time of the year. Because I am a Christmas person. At that time its like the world just changes for me. Its feels so peaceful to me. I love coloring and watching Christmas movies. I just love the rest of the year from October. Thanks for coming I hope you had a good time. Thanks Tammy for letting me take apart in your meme. It was great. Please remember to go out and vote it is really important. I have a song for you to listen too. You just have to go down to my second post. But there's a song about our soldiers that I would like you to listen to Thanks
Twhite!